What is SEO and how it works – A beginners guide
Search Engine Optimization (SEO) is not as complex as it may sound. Every business goal is to be found in online search and SEO helps in doing just that. If you are beginning to learn SEO or in the process of employing a company to manage your search, this guide will help you understand what is Search Engine, what is SEO and how it works. SEO has been around since the earliest days of the internet, and the goal has always been the same. How to rank as high on search engine results pages. In order to understand SEO and SEO process, it is important to know what is a search engine and how SEO helps in improving your website ranking.
Search engines are a class of programs that helps users locate information on the internet. WIth the help of web crawlers such as robots, bots or spiders, Search Engine trawls the web by following links available page by page or site by site. The information gathered by these spiders will be relevant to the keyword search of the user. These results are gathered by spiders are then displayed in the search result for users to see. Some of the popular search engines known today are Google, Yahoo!, and MSN Search.
How do Search Engines work?
When a user inputs a specific query, search engines use complex formulas to generate and populate the result in search, also known as SERP (Search Engine results page). Search Engines look at the key element of a web page such as the page title, the content, keyword relevant to the search, its density etc and then comes up with a rank on where to place a specific website in the search result (SERP). Each Search Engine's algorithm is unique, are constantly updated making it complex to understand what effort will actually provide site display in page 1. SInce this is a dynamic process, SEO is a continuous effort combined with a lot of observations and trial and errors.
There are essentially three stages for a search engine.
Crawling – With the use of web crawlers, content is discovered.
Indexing – When content is discovered, it is analysed and stored in huge databases.
Retrieving –  When a user posts a query, Search Engine will fetch a list of relevant pages.
Crawling
This is the first step in search. We crawlers would visit a website and collect information about them. Information such as page title, keywords, images, density and links from every page if any and where it links to – basically everything that web crawlers crawlers can possibly gather from your website. The crawlers don't do it just one time! They revisit the site to see if there are any changes and every time it crawls your website, it adds all the information and links it has found to a place. If the links are not connected properly to the content of the website and its inner pages, web crawlers will find it difficult to penetrate inside and gather all the available information. Imagine having set up a restaurant on top of the hill with no access. Your customer will give up reaching you. The same applies for web crawlers.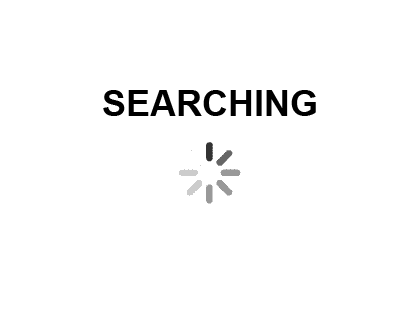 Indexing
This is the next step to crawling. It is an essential step in understanding what is seo and how it works Once all the information is gathered from a website, the next thing to do is to place this set of information in a database. Imagine copy and pasting some content on to your dropbox so that you have access to it later. Something like that but a lot more complex. Gathering so much information is just one thing, but ensuring that you know what to look for, when is essentially the process of Indexing. All of these data gathered are stored in vast data-centres for search engines to access the relevant data when a query happens
Retrieving
While crawling and indexing are two functions you don't get to witness, retrieving and displaying the result, based on your query is for you to see. When you type in a search query, and the search engine looks for the relevant documents and tries to match your query with a set of display results(SERP). The results displayed by Search engines are those it thinks are most useful for you as a reader. PageRank is an algorithm which is used to improve web search results. If there are more links, read as relevant as well, pointing towards your website, Search Engine will think you are a popular website and display you higher up in the result.
It doesn't end there. Regular updating of your website, trustworthy domain etc are other factors considered by Search Engines while retrieving and displaying search results.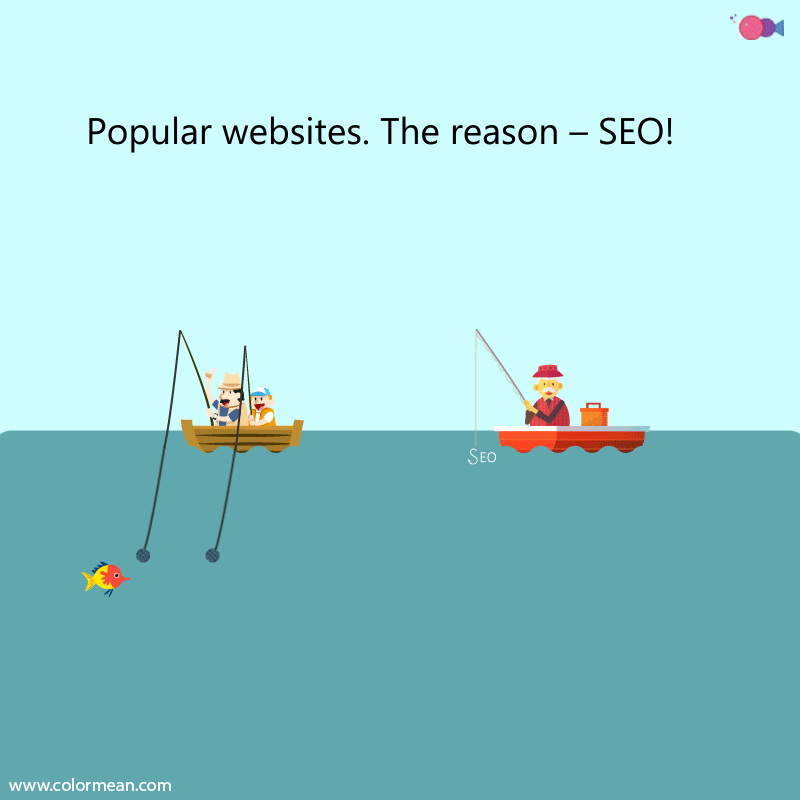 What is SEO?
Now since you have understood what Search Engines are and their role in SEO, let us discuss SEO and how it works.  SEO or Search Engine Optimisation is a marketing technique that helps to improve Search Engine rankings. It enables in increasing your website or brand's visibility in the online space through organic, free, editorial and other non-paid search. SEO helps in finding and ranking your website higher than the millions of other sites in response to a search because search engines finds your website relevant and authoritative. It is a combination of technical and creative aspects that helps in improving search, driving quality traffic and increasing your brand awareness online.
Why is SEO important?
Do you know the no of people online as of now? This very moment? Look at google live statistics to know. Let me also give you another perspective. Google processes over 40,000 search queries every second on an average which translates to over 3.5 billion searches per day and 1.2 trillion searches per year worldwide.Crazy right? WIth so many people searching for something or the other online, don't you want your website to show up in search so they can easily find you, get in touch and do business with you?
Look at that with traditional marketing. If you sell holiday packages to Sri Lanka, would you rather put up an ad in the newspaper for readers to see, which of course is a reach to a limited set of audience for a huge ad spend, OR, be seen online, when a user is looking for holiday packages to Sri Lanka?
It is easier to sell your product or service to someone who is already looking for it, than casting a net wide and thin spread, without knowing who might actually want what you have to offer. SEO helps you do just that.
Joshua Guerra, CEO of marketing firm BIZCOR says "As long as you are focusing on optimal user experience while performing methodic SEO strategies, you will be rewarded with higher positioning and organic traffic."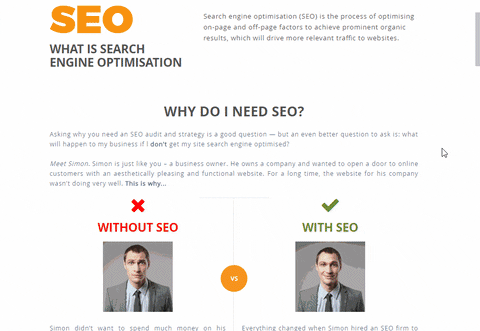 SEO will help your business grow at many levels. You will be able to
Cater to a larger market

Target your customers based on Demography
Enhance your Business visibility in Search

Save on Marketing costs
What affects Search and How  SEO works?
Since you know how search engines operate and what is all the buzz about SEO, let us look at what are the factors encompassing search and how does SEO actually work.
When a query is input in google search box for example, the search engine uses nearly  200 ranking signals in its algorithm before it populates a certain set of websites on page 1. Some of the important facts to consider so that google indexes your website and shows in search results are
Domain Factors
Domain Age

Keyword in Domain

Domain Length

Domain History

Exact Match Domain

Public V/s Private WHOIs

Country Code Top Led Domain
Page Level Factors
Keyword in title tag

Keyword in Description tag

Keyword in H1 tag

Title tag starting with Keyword

Content Length

Keyword Density

Page loading speed

Duplicate content

Rel Canonical

Image optimisation

Recency in content updation

Outbound link quality

Syndicated Content

Broken Links

Affiliate Links
And more…
Site Level Factors
Site Architecture

Domain Trust/ Rank

Site Updates

No of pages

Site Map

SSL

Server Location

Mobile Optimisation

Breadcrumb Navigation

User Reviews

Site Usability and

Value of Content
Backlink Factors
Linking domain age

No of referring domains

No of linking pages

Link from .edu or .gov sites

Links from competition

Authority of linking domain

Guest posts

Backlink anchor text

Word count in linking text
User Interaction
Direct Traffic

Repeat traffic

Bounce rate

Bookmarks

Comments

Time on site
Effect from Social Media
No of likes, tweets and shares

Brand mentions

Social account profiles for the brand

Employee profiles in Linkedin
What you should not do in SEO and how it impacts your page visibility and ranking.
Linking to bad sites

Redirects

Over Optimisation

Distracting ads

Have low quality content

Keyword Stuffing and

Hiding Affiliate Links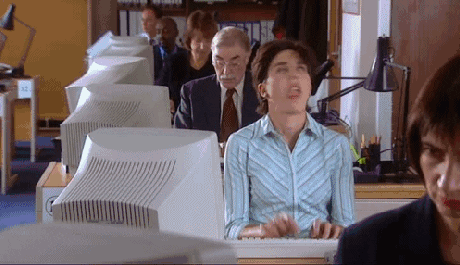 What is SEO and How it works | Step by Step Guide
Identify Keywords for your website
Before you start optimising your website for search, it is important to know what you are optimising the website for. If you are selling hair masks and your keyword is hair cream, your website will not show up in search results. Google's Keyword planner is a good place to start with if you are not familiar with keyword research. Before choosing your set of keywords, here are some of the factors to keep in mind.
Identify Keywords which has Volume
When you input your keyword, google keyword planner will show you how many people are actually using that specific keyword on search. The bigger the volume, the better the keyword for your brand.
Choose keywords that are relevant
Just because a keyword has a large volume in search does not necessarily mean that it is relevant to your business.
Know your competition
You need to consider the costs and likelihood of success for any keyword you choose. Knowing which keywords your competitors are ranking for will help you understand your chances of ranking in search.
Google has stopped providing a lot of the information about what people are searching for but tools like SEMRush and SPyFu can be installed on your own site to get a sense of the terms you're website is ranking for and their estimated search volume.
Keywords are not cast in stone. You can monitor keyword performance every few months and remove the non performing ones and add new ones to see which of those gives you better results in search.
Do On-Page Optimisation that works
Once you have your keywords figured out, the next step is to attack your website and make it search friendly.
A well optimised page will have the following in place
Title Tags
When crawlers are trying to understand what you have to say on a page, plugging your keyword in the title is your best bet. Title tags are seen on the top of your browser and is populated by your page's source code in a meta tag.

Length of Title Tag – 55 – 60 characters
Title tag will be the term shown in search results. Therefore careful use of your keyword, placed naturally will work favourable for you. If you are a user who is looking for a specific product and a bunch of search results are displayed, you will end up clicking the heading of one of the listing that lures you. That heading is your title tag. Make it compelling to click.
Meta Descriptions
There is only so much one can say in 55 to 60 characters, don't you agree? While not everything can be conveyed in the title Tag, meta description acts as your additional ad copy. It supports your headline and adds emphasis on what the page has to offer.
A compelling description of your page will helps users who are searching for your offering click on your link and not your competitors.
Here's an example of a meta tag that I ended up clicking
My search for where to buy icecream, gave me a link to order online icecreams and desserts from Nature's Basket.
NOTE: Meta descriptions can be any length, but search engines generally truncate snippets longer than 160 characters. It is best to keep meta descriptions long enough that they're sufficiently descriptive, but shorter than that 160-character limit.
Alt Attributes
You think search only works in the web? Think again. Images are a great way to improve  your page ranking.
The alt attribute is the HTML attribute used in HTML and XHTML documents to specify alternative text (alt text) that is to be rendered when the element to which it is applied cannot be rendered.
With the help of Alt Attributes you now have an additional opportunity to help search engines understand what your page is all about.
Use keywords in your alt attribute naturally. Stuffing keywords will not help in your SEO ranking
Click To Tweet
URL Structure
 A good URL structure not only helps the Search Engine understand what the page is all about, but also the user. Remember, Search Engines are looking for websites that actually provide value for the readers and therefore it is important to create url structure that makes sense and exciting to click through.
Siloing your Website & Create Internal Links
 SEO Siloing is a best practice for how a website should be structured so that search engines can easily crawl and get necessary content. Siloing is the act of dividing a website's content into different categories and subcategories and grouping them into sections also known as silos. Sorting and linking related pages means a website will carry more clout in search engine rankings, and therefore will index your web content. There are two ways to silo your website
1. Physical Siloing and
2. Link Based Siloing
Physical SIloing is providing content hierarchy for your website.
Here is an example of physical siloing for a digital marketing agency website
Homepage: A homepage should provide a brief introduction about the agency and what it has to offer
Key silo categories: This is the point you you start siloing. Group your website into distinctive sub silo's, and remember to keep them simple. The key categories may be "Services" "Blog" "Case Study," and "Contact."
Category pages: Now sort your content into the four silo categories listed above. For example, the "services" silo may contain category pages about SEO, Paid Advertising, Social Media Marketing and so on. These are pages that support the main content you've sorted into silos. Dividing your site into supporting pages means there's a greater chance specific search queries will land on your webpage.
Link Based Siloing is another way for your website to be better understood by search engines.  You can manually link appropriate pages or sites together using links in the content.
When publishing blog posts or website pages, it's important to link to relevant content found elsewhere on your site. An intelligent way to do that is to deep dive into your website analytics page. Identify the most popular pages and provide links torelevant but not so popular pages so users an continue reading. In your analytics, look at the pages that are most popular with visitors. This way you are more likely to distribute web traffic and page authority throughout your site.
Build links using Quality Content
 Google's algorithm is still heavily based on links and if you do not focus on your link building strategy, you will be losing out on SEO. Good quality links will drive traffic to your website and also build your trustworthiness in the web space.
 If you are new to SEO, a good way to build links is using traditional PR methods. By getting news websites and other high ranking sites mention your brand, you will start building you quality backlinks. However, I must tell you that this is not an easy route. It takes a lot of effort and is both time and labor intensive. Before you decide to build on your backlinks, understand what your target audience enjoys reading. You then have to identify who will be interested to share your story. Reaching out to influencers in your niche is a good way to distribute your content.
If you are selling a beauty product, join hands with a successful travel blogger in Instagram and get your product promoted. You can create content that can go up in both your blogs and redirects users to your website. Then spin a story and distribute.
 If you sell a marketing tool for example, you can write a generic blog on Marketing. Hubspot for example allows guest blogging on marketing. You get your story published in your name and with the kind of readership they have, one click on your name in the story, and the reader is on your site. See the potential? You need to identify the sweet spot, the point of convergence in the venn diagram to use content for link building effectively.
You can also focus on creating different content that will be of real value, have a plan for promoting them. Let people you have featured in your story about it and get more shares. The options are plenty.
While you do all of that, keep your keywords in mind. The more naturally it flows, the better your ranking possibility
 Technical SEO that you can't ignore
While the whole purpose of SEO is to help your website rank better, it doesn't end there. Users have to click on your link shown in SERP and visit your website. If your website is not geared to cater to the users need, he will scoot at the same rate of entry. Some of the factors to keep in mind while doing your website  SEO are
Mobile Responsiveness
Page load time
Header Response
Redirects
Duplicate Content
 Page Speed

Speed is an important factor in SEO. So much that google has a page speed test tool developed to help businesses see how their site is performing. A fast loading site is given more preference in the search result that a site that is not optimised or speed.
Mobile Responsiveness
 Google will use mobile-friendliness as a ranking signal in search results, rewarding websites in search that are fully optimized for mobile platforms. Page speed Insight tool of google gives action points on what needs to be modified to help the website become mobile friendly.
Header Response
Header response codes are an important part of SEO. You have to make sure that working pages are returning the correct code to search engines (200), and that pages that are not found are also returning a code to represent that they are no longer present (a 404). Getting these codes wrong can indicate to search engines that a "Page Not Found" page is in fact a functioning page, which makes it look like all your site's content is actually 404s which means none of your pages are indexed and eligible to rank. You can use a server header checker to see the status codes that your pages are returning when search engines crawl them. You can use websites like http://tools.seochat.com/tools/header-checker-tool/#sthash.3vSqRALH.dpbs to check your header response.
Redirects
Improper redirects on your site can seriously affect your search. Changing your URL structure could also create broken links that will hurt your referral traffic streams and making it difficult for visitors to navigate your site.
Duplicate Content
By duplicating content you are diluting your link equity between two pages instead of concentrating on one page. This will result in ivig you less chance in ranking. You can use the HTML improvement under webmasters tool to identify areas of improvement. MOZ analytics tool also provide a way to help you discover duplicate content.XML Sitemap
You can use a free tool to generate XML sitemaps. XML sitemaps helps Google and Bing understand your site and find all of its content. Just be sure not to include pages that aren't useful, and know that submitting a page to a search engine in a sitemap doesn't insure that the page will actually rank for anything.
How is your SEO Performing? Measure it!
You can start with seeing where your site ranks for a specific keyword and measure it over a period of time to see the change. Although this gives you an indication,this is not a definite metrics to fall back on to change your marketing strategy.
When you look at your google analytics, look for the change in organic traffic. The whole purpose of SEO is to drive organic traffic to your website and if you see an increase in the no of visitors, you are doing your SEO right.
Need more data? You can dig deeper to see the source of your traffic, the page that got maximum visits, the demographics of the visitor, the time spent on the website and where did they exit your website from. You can also set up goals and measure with each goal completion. For every business, the end result is not to just see how much traffic came to the website but what happened with these visits. By setting up landing pages, lead capture forms, it is possible to measure and track the no of leads generated and sales converted from SEO efforts..
Summary
 Understanding the exact algorithm is complicated, dynamic and a big mystery. However if you focus on providing the best content, with a great user experience, basically what users want to read, it is easier to rank better in search. Considering that almost 60% of all searches end up clicking the first result, it's evident that ranking your page is extremely important to grow your business.